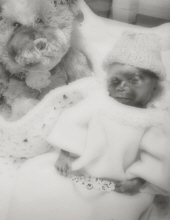 Obituary for Seanoca Marie West-Carter
Seanoca Marie West-Carter, the daughter of Shmyra Garrison and Jamell West, was born on August 27, 2018 and lived for 104 minutes.



I LOVE YOU THIS MUCH

Mommy, mommy, please don't cry.
I'm in heaven now, so dry your eyes.
God is keeping me safe and warm,
just as you did from the day I was born.
We don't know for sure why this happened to me,
but in your heart, mind and soul I will always be.
We need to cherish the memories,
till the day you're here with me.
Think of all the times you made me laugh, and smile.
That should make you feel better mommy.. just for awhile?
Even though I passed away so young,
I'm still living mommy, and still so strong.
You made me the little girl I am today,
now let God take over he has his ways.
I'm an Angel now mommy, watching over you,
So please don't hurt or cry, I will feel it too.
Oh I wanted to let you know I have received my wings,
When we see each other again, I will teach you how to use these things.
I want you to laugh mommy, and I will too,
I know its so hard and you can't feel my touch,
but just remember mommy, I LOVE YOU THIS MUCH.
Events
Event Information
Services will be set for a future date to be determined.