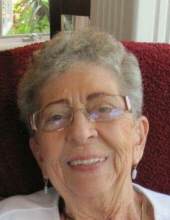 Obituary for Lillian C. Scalia
Lillian Catherine Scalia, 88, passed away peacefully at the Heartland of Waterville on August 30, 2018. Lillian was born to the late Frederick and Marie Ziethlow, on January 5, 1930. She married Joseph Scalia in 1949, and he preceded her in death in 1984.

Lillian was a long distance operator for Ohio Bell and AT&T for 42 years, as well as being an active member for many years with the Toledo Telephone Pioneers. She also served multiple positions with the Toledo Council over the years. Lillian was also proud to be a member of the CWA Union Local 4315, where she served as president for 5 years, and has been an actively involved member of CWA 4319's Retired Member Chapter since 2005. She was a cornerstone in the Union Retiree Group. She was also involved with the Ohio Democratic Party, serving as President of the Democratic Business & Professional Women's Club, a Trustee for the Federated Democratic Women of Ohio, and a member of the Lucas County Democratic Executive Board.

She was very independent and took great pride in her remodeling projects...stripping, sanding and staining, every piece of molding in her house, and building her own outdoor patio. She loved to sew and made everything from draperies and pillows, to her own clothes, and Halloween costumes for her grandchildren. She was an excellent cook, and also loved to bake, knit, and crochet.

Lillian was also preceded in death by her son, Joseph Scalia; grandson, Andrew Smith; brother, Bill Ziethlow; and sister, Ann Sick. She is survived by her daughters, Connie (Larry) Hudson; Gina (Kevin) Kaufman; and Tina (Tim) Smith; grandchildren, Erica Smith, Kyle Kaufman, Jennifer Austin and Danielle Sidebottom; 9 great-grandchildren; sister, Eleanor Laraby; and many close family members.

A celebration of Lillian's life will be held on Sunday, September 23, 2018 from 2:00 pm – 6:00 pm at Heatherdowns Country Club, 3910 Heatherdowns Blvd, Toledo, OH. Memorial contributions may be made to Toledo Telephone Pioneers, c/o Sandy Lentz, 3117 Strathmoor Ave, Toledo, OH 43614, or Hospice of Northwest Ohio, 800 S Detroit Ave, Toledo, OH 43609.
Previous Events
Celebration of Life
Heatherdowns Country Club
3910 Heatherdowns Blvd
Toledo, OH 43614
Memorial Contribution
Toledo Telephone Pioneers
C/O Sandy Lentz
3117 Strathmoor Ave.
Toledo, OH 43614