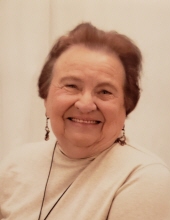 Obituary for Helen Ruth McCaig
Helen Ruth (Walker) McCaig, 83, passed with peace and grace on August 23, with her family at her side. She was preceded in death by her loving husband, James McCaig in 1994; her sister, Caroline Hackman and brother, Monte Walker. Helen is survived by children, Lynn (James) Joyce; Lori (Michael) Tierney; and Jim (Lisa) McCaig; eight grandchildren: Sarah Joyce, Shannon Joyce, Patrick Tierney, Daniel Joyce, Kierney McCaig, John Tierney, Sheamus McCaig and Liam McCaig; her sister, Kay Houghton; brother-in-law, Gerald McCaig and many loving nieces, nephews, in laws and dog, Misty.

Helen was born to Monte and Ella Walker and was raised in Detroit, MI where she met and eventually married her high school sweetheart. They lived in Chicago where Jim was stationed in the Navy, moving to Allen Park MI to start their family, and eventually moving to Toledo OH. Helen threw her energies into raising their children and providing a comfortable home. Open to all neighboring children, her kitchen was never closed. She was present at every event for her kids and never missed preparing a meal for her husband. Helen and Jim moved to Livonia where she could spend more time with her sisters and extended family. In addition to their many travels with family, most popular were trips Up North and to California, they enjoyed entertaining at home.

She was a devoted Grandmother to her eight grandchildren and never missed an opportunity to spend time with them, watching them in various activities, playing board games, playing Putt Putt and taking them to the Metroparks. She especially loved visiting Wildwood Metropark in Toledo, OH to walk her dog. Helen had an unusual ability to train and tame the wildest of dogs.

She will be always remembered as a loving mother and grandmother and whose greatest passions were reading, swimming and watching the Detroit Tigers. Her quick wit and quiet strength will be missed by all that knew and loved her.

A private service will be held and she will be laid to rest next to her husband in Livonia, Michigan. The family wishes to thank the Elizbeth Scott community for their care and compassion while she was there. Donations may be made in Helen's name to the Humane Society.
Events