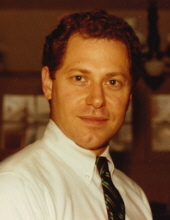 Obituary for Kenneth Jacob Sear
Kenneth Jacob Sear, lover of popcorn, olives and ham sandwiches, best known for his smile and laughter, and witty conversations with friends, passed away peacefully in his sleep June 26, 2017.
Ken was born on a Sunday, November 20, 1949, to Frederick and Irene (Hildebrand) Sears in Toledo, Ohio. He grew up in Sylvania, attending Hillview Elementary and Sylvania High School, graduating in 1967. Growing up, Ken loved being a part of the Boy Scouts, and making donuts and delivering groceries on his bike for his Father's Store, Sears Market, in downtown Toledo. He loved cycling, as well as repairing and building bicycles and, as a youth, had many treasured memories working at the West Toledo Bike Shop. Ken also, loved to sing in the High School choir and later the Church choir. He will be lovingly remembered for his silly renditions of his choir warm up song while shaving and dressing for church on Sundays. He would sing in various octaves, over and over, "Eat no, meat no, money have I none, yet will I be married" and then give Debra a wink.
Ken attended Bowling Green State University and the University of Toledo studying Fine Art.
Ken had an entrepreneurial spirit and was employed many years, in various capacities in the automotive industry, from selling automobiles to managing Body Shops, to owning his own Auto Body frame repair shop. More recently, he was self employed as a Fine Finish carpenter and Builder, Remodeler for over 20 years.
Ken had an insatiable curiosity and an amazing ability to retain facts on many subjects. He had a lifetime of significant accomplishments, but none was more important to him than knowing Jesus and growing in his relationship with Him. His dedication and love for the Lord Jesus Christ compelled him to serve others through prayer, teaching bible studies, mentoring, encouraging phone calls, by visits to the prison or sharing his faith whenever possible. Since September of 1979, the greatest joy in Ken's life came from studying the Bible and getting others to read it too.
Loving husband to Debra, they were married for 33 years beginning, July 14, 1984, she survives. Best Companion to his beloved Labradoodle friend Mr. Bingley, of 6 years, died shortly after Ken's passing.
Ken is survived by his elder brother, Michael (Judy) Sears of Seattle; his elder sister, Judy (John) Kalmbach of North Carolina and his younger brother, Mark Sears; "Mother, and Father-In-Love"; Jean and Marvin Schramm; "Brother and Sister-In Loves"; Mark and Linda Schramm, Diane and Russ Irons, beloved nieces and nephews, and dear friends.
Debra will be welcoming friends and family to gather for a memorial service, to share stories and remember Ken, July 6, 2018, at Wildwood Metro Park, Ward Pavilion, 4830 Central Avenue, Toledo, Ohio, 43615 from 6-8 in the evening .
We wish to thank the many family and friends who have walked with us, sacrificially served us, and even through what seemed crazy, surrounded us with their love. We are grateful, for your prayers have carried us through this journey in the valley.
Memorial Contributions may be made to The American Cancer Society, Road to Recovery, Hospice of Northwest Ohio, to the Assembly of Christians, or The Pocket Testament league.
Previous Events
Memorial Service
Wildwood Metro Park Ward Pavillion
4830 Central Avenue
Toledo, OH 43615